BASIC CHARGE - EV - PROBABLY THE MOST AFFORDABLE AND ADAPTABLE EV CHARGER AROUND.

The BASIC CHARGE:EV pedestal is the brother to Rolec's world-leading Classic utility pedestal, which now boasts over 150,000 units sold worldwide. This mass produced, tried and tested pedestal is, we believe, the most affordable and adaptable EV charging pedestal in the world and is ideal for a variety of different locations, including: private car parks, offices, factories, hotels, cinemas, leisure centres, shops, warehouses, hospitals, schools, depots – in fact any moderately secure environment. 
This versatile pedestal offers either 1way or 2way Type 2, Mode 3 fast charging socket(s), comes with hatchlock, built-in overload and fauklt current protection, and LED Illumination.
BasicCharge: EV Superfast 3 phase (11kW or 22kW) versions also available.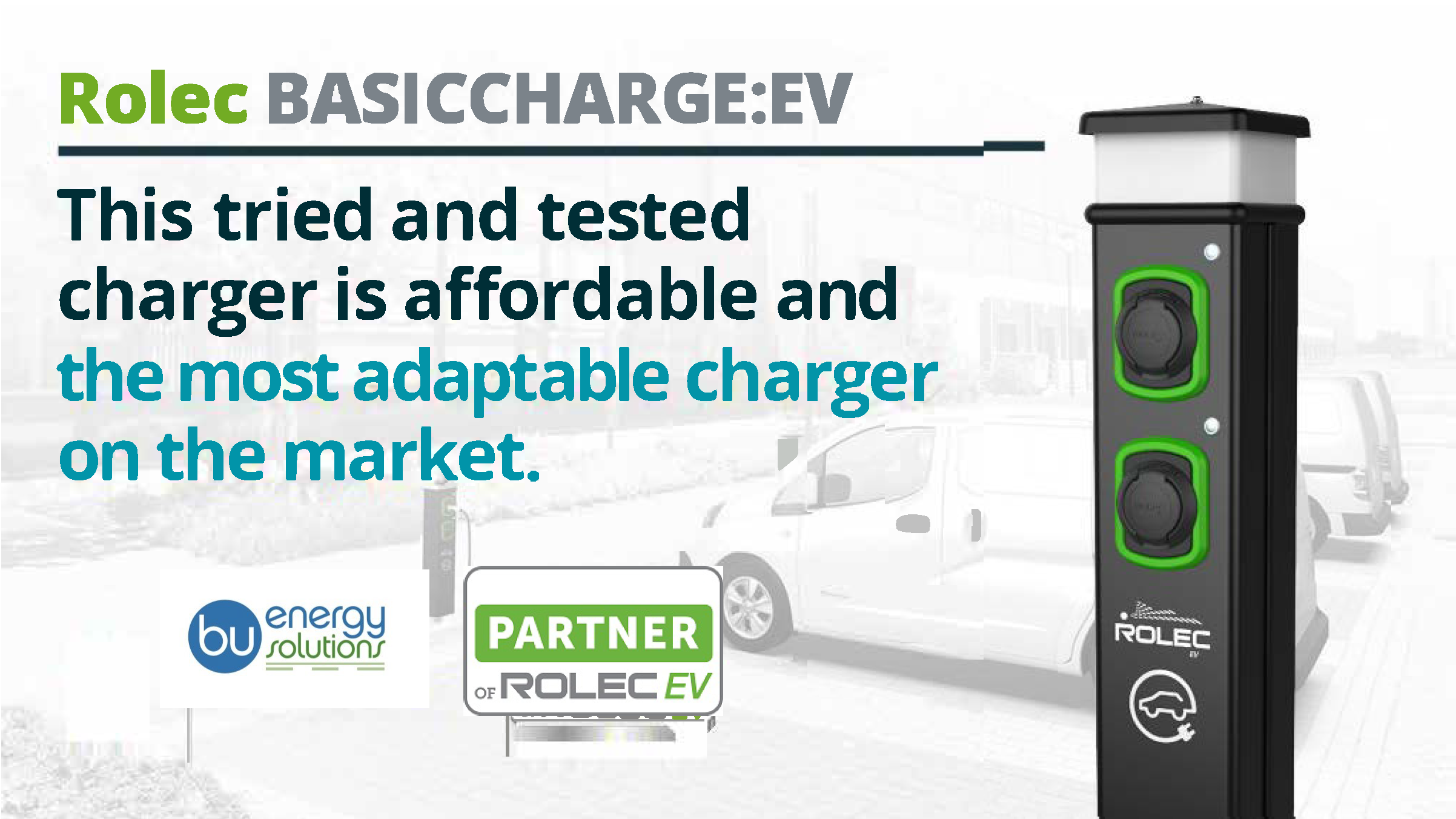 Highlighted features:
• IEC 61851-1 Mode 3 fast charging
• IEC 62196 (Type 2) charging socket c/w security hatchlock
• Charging speed - 3.6kW (16A)
• Photocell controlled LED amenity lighting head
• Surface or root mountable
• Built-in overload and fault current protection (RCBO)
• Built-in LED charging status indicator
• OLEV Grant Fundable under the Workplace Charging Scheme
• Easy to install and maintain
• IP65 British Standard Institute (BSI) certified
• Corrosion resistant & UV stabilised
• CE certified
Dimensions: 205mm X 1130mm X 205mm (W X H X D)
Standard Body colour: Black (Other colours available upon request)
Standard Pod colour:  Green (Other colours available upon request)
Certifications & Compliance: 
• Wiring Regulations - BS 7671 (18th Edition)
• IET EV Regulations, Glow Wire Testing - IEC 60695-2-13
• EMC Compliance - EN 61000-6-3:2007, EN 61000-6-2:2005
• Safety Compliance - EN 60950-1:2006, EN 60950-22:2006, Low Voltage Directive (LVD)      2014/35/EU
• Environmental Protection -
  IP66 (Category 1) Weatherproof BS EN 60529,
  UL94 Flame Rating at V2 for 1.5mm and 3.0mm
EV Charging compliance:  EN 61851-1:2001, EN 61851-21:2002, EN 61851-22:2002
Input voltage: 230V AC/50Hz Single Phase or Three Phase.
Overload & fault current protection:  1 x Built-in 20A, 30mA Type A RCBO & 6mA DC Sensitive Device
Incoming cable terminals: 3 X 35mm
Packaging dimensions: 350mm X 1400mm X 330mm (W X H X D)
Overall weight: 16Kg
Packaging materials: Corrugated box